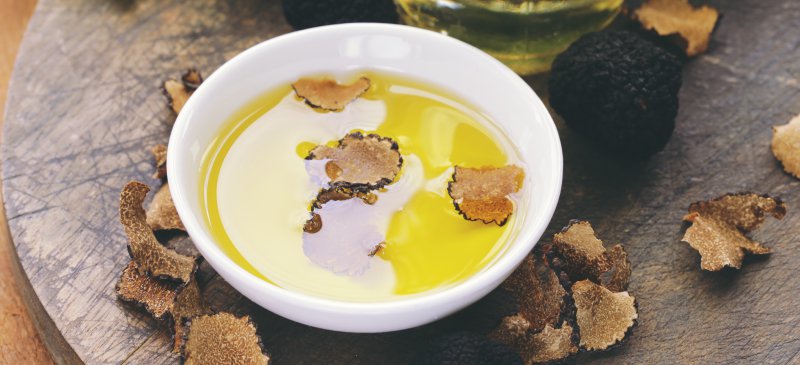 White truffle oil - Best of 2021
Truffle oils are virgin olive oils infused with truffle extracts or truffle shavings. Most truffle oils use extra virgin olive oil as a base, which enhances the volatility of truffle aromatics ensuring that the full flavor of truffles comes out. They can be enjoyed as a finishing touch (only a few drops) on meats, risottos, pastas, and salads. Knowing which truffle oil to buy can be challenging, especially since the market is saturated with synthetic and 'chemically flavored' truffle products. Our 2021 guide for the best commercially available truffle oils should put you at ease. These truffle oils are the real deal, made from authentic white truffles from Italy and are highly ranked by truffle enthusiasts.

Calivirgin is well known for their flavored extra virgin olive oils. It comes as no surprise that they also make exquisite truffle oil. The olives for their oil is sourced from a single estate located in Lodi, CA while the white truffles are sourced from Le Manche, Italy.
This truffle oil has no additives, chemicals, or preservatives while still being strong in flavor. The rich earthy character of this oil will pair well with your favorite dishes.
Though relatively pricey, Calivirgin white truffle oil will absolutely please. If you are a connoisseur of oils or balsamic vinegars, do not hesitate to check out the many other products offered by Calivirigin. Their white truffle olive oil is avaialble to ship worldwide and avaialble in two sizes: 100mL or 250mL.

Already a household name in the American truffle industry, Truffles USA brings together the old world with the new. They import their truffles from Italy and always have the freshest truffles avaible in their products.
The quality of this oil can readily be seen by its two ingredients - extra virgin olive and white truffles. No additional flavors, chemicals, or components. High in aromatic content and with excellent earthy truffle flavor, this oil is a must try for anyone looking to taste pure ingredients.
Not surprisingly, Truffles USA White Truffle Oil is Amazon's Choice favorite (carrying a low price and high rating) and can easily be bought on their Amazon page or website.

While best known for their olive oil, the French producer Olivier & Co also carries a great white truffle-infused oil. The boldness of this oil comes from the rich background behind the virgin olives, which are produced from finest groves in the Mediterranean.
This truffle oil has seen popularity in the culinary scene. Like other oils mentioned in this post, the whtie truffles are sourced from Italy which endow the already excellent extra virgin olive oil with the earthy flavors we look for in truffles. In terms of flavor strength, this oil strikes the ideal balance between having enough aroma that it can be tasted throughout the dish and being overwealmingly strong.
With its beautiful packaging, Oliviers & Co - Truffe Blanche / White Truffle Oil makes a great gift and is available to ship worldwide through their online store or Amazon page.

Its not uncommon to see celebrity chef's put their names on the label of luxry culinary ingredients. Jean Pierre's own white truffle oil is made to the highest standard - contains no synthetics or chemicals and just two ingredients: olive oil and white truffles.
Though simple in ingredients, this white truffle oil is one of the most potent we have tasted. The earthy sweet flavors of this oil will pair well with any truffle-inspired dish. Just be sure not to add too much.
High potency and simple ingredients makes this truffle oil our number 2 pick. If you are looking for the strongest, authentic white truffle oil with pure ingredients, you can buy some of Jean Pierre's white truffle oil here.

Urbani is one of the oldest Italian truffle product makers, in operation since 1852. Family owned, the quality of the products they produce are by far some of the best in the world.
Their Unico White Truffle Oil highly potent, 100% organic, and contains no chemicals or synthetic flavor compounds. Each bottle features pieces of real shaved white italian truffle, and is absolutely the real deal when it comes to truffle oil. Pairs excellent with pasta, rissoto, meats and fish. For recipe ideas with their white truffle oil, check out Urbani's recipe blog.
As with all other products from Urbani, their white truffle oil is made in Italy, but is available to purchase in the US. Be sure to check this oil out, as it is our favorite white truffle oil of 2021!
White truffle oil FAQ
Q: How much white truffle oil should you use?
So you bought your favorite white truffle oil, but have no idea how much truffle oil to sprinkle onto your food. As a rule of thumb, you should be adding only a few drops of oil to your food and tasting. Different truffle oils can be stronger or weaker than others, so its best to add drop wise, taste, and add more if needed. As a warning, adding too much oil can make a dish difficult to eat.
Q: What is the chemical in fake white truffle oils?
The compound is called 2,4-Dithiapentane. Make sure you check the labels when buying truffle oils. Even if 2,4-Dithiapentane is not mentioned as an ingredient, many truffle oil producers still put it into their oils, so tread carefully.
Q: Should I use truffle oil or truffle salt?
Truffle oil and truffle salt serve similar purposes but different application areas. Truffle oil works best in situations where you do not want to increase salinity of food. Truffle salt is overall less pungent, but can be added to any dish that requires salt. Both are great to have around.